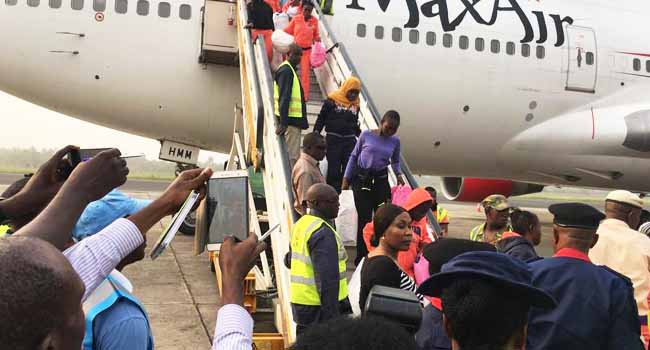 Richard Ginika Izuora
The National Emergency Management Agency, NEMA has received another batch of 178 stranded Nigerian Returnees from Libya.
The Director General of NEMA, Alhaji Mustapha Habib Ahmed received the Returnees on behalf of the Federal Government on arrival through the Coordinator, Lagos Territorial Office, Ibrahim Farinloye.
While receiving them, Ahmed, enjoined the Returnees to turn a new leaf in looking for ample opportunities abound in the country that are enough for everyone to achieve their desired goals.
The Director General appealed to them to avoid vices that they must have been exposed to from the country of departure in their homeland in order to best of available potentials in a peaceful and conducive atmosphere.
The distressed Returnees were assisted back to the country through the Voluntary Assisted Returnees by International Organisation for Immigration sponsored by the European Union.
They were brought through the Al Buraq Air with Registration number 5A-DMG Boeing 700-787
The flight arrived the Cargo Wing of the Murtala Muhammad International Airport, Ikeja at about 1820 hours
The profile of the Returnees reveals that adult females are 73,female children are 13 and female infants are 6 making 92 females.
Others are adult males 63, male children are 15 and infant males are 14 totalling 86 males.
Other Agencies along with NEMA, at the airport include NCFRM, NAPTIP, NSCDC, FAAN, Police and Nigeria' Port Healthy.