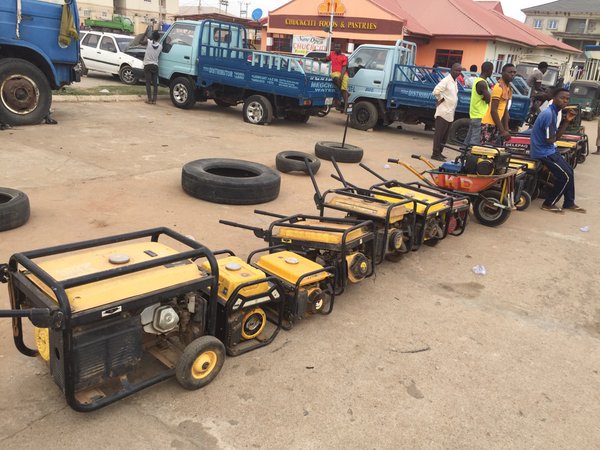 Yemisi Izuora
Nigeria is fast turning into importers delight in the area of generator import.
Dealers and importers are taking advantage of the country's faltering power sector to increase importation investment of generating power sets.
Despite huge gas reserve that could be used to raise power generation, a Research and Markets report said that in Nigeria, diesel generator sets, gensets with rating less than 750 KVA accounted for majority of the market share due to extensive power shortage in the country.
The report which is tagged "Nigeria Diesel Genset Market (2016-2022)" noted that in the forecast period, 5-75 KVA range would continue to show its dominance in volume terms in Nigerian market.
It said that the regional share of diesel genset market is dominated by northern Nigeria, noting that even though most of the industries and major tourist destinations are situated in the southern region the northern region with its large population and virtually zero generation of electricity has led to the maximum revenue share of diesel gensets for this region.
The report thoroughly covers Nigeria Diesel Genset market by KVA ratings, verticals and regions.
The report provides the unbiased and detailed analysis of the on-going trends, opportunities / high growth areas, market drivers which would help the stakeholders to device and align their market strategies according to the current and future market dynamics.
Just recently, Cummins Energy Solution Nigeria- Nigeria's leading power generating firm a forth night ago reinstated its lead role and expertise in offering cheap and efficient power for industries, office buildings and residential estates through its wide array of available gas generators.
In a statement, the General Manager, Cummins Energy Solutions Nigeria, Graham Christie, said the Nigerian market has experienced a huge transformation from the time when consumers were more about procuring just diesel fuel to an age where the consumer have become more enlightened; requesting knowledge in total life cycle costing, product suitability to their consumption patterns, and placing strong emphasis on aftermarket support.
"This no doubt is a big advantage for gas generators, as they offer a much lower life cycle cost as compared to diesel generators, and with Waste Heat Recovery installations, for both hot or cold applications, the total gas generator efficiency goes beyond anything diesel generators could achieve; thereby reducing the resultant payback time on the capital cost of the equipment drastically."
It is an undisputable fact that the majority of private industries in Nigeria today rely on diesel generators for their power requirements due to the unavailability of natural gas. However, the rate of switching to natural gas generators is on the rise, as both the pipeline infrastructure is widening and awareness of compressed natural gas (CNG) is growing in Nigeria, and with Firms such as Powergas which is our sister company  leading the CNG development in Nigeria, trucking natural gas directly to customer sites not connected to the pipeline has become hassle free, even with analysts' predictions that natural gas fired generation is likely to dominate the market given its clear financial savings.
Christie while explaining how his firm operates, said "We install 40 KW to 2000 KW single gas generators or multiple sets in industrial, commercial and residential applications also offer more value to our customers throughout the life cycle of the engine, offering full turnkey power plants, 24 hour operations & maintenance on site, remote monitoring, synchronization, load management systems and performance guarantees for generator uptime And with a range of gas generators particularly suited to 'off grid' applications, also known as 'island mode', Cummins gas generators can handle larger load spikes – making them very suitable for heavy industrial applications."
As an energy firm, we are committed to increasing the population of gas generators in Nigeria, which will generate a steady supply of electricity, while utilizing domestic natural gas – which has significant positive spillover benefits, such as local employment and global technology transfer to Nigeria. And through consistent financial investment in product research and development, the Nigerian market recently welcomed our latest 'game changer' in the gas generator category with the launch of the new 1540 KW high efficiency Osprey engine, which is one of the most efficient gas generators on the global market – delivering up to 44% electrical efficiency and 45% mechanical efficiency, further driving cost savings for our customers.
Christie therefore urged Nigerians to transit to power generation through natural gas generators, as besides its huge cost savings, also has significant environmental benefits with its reduced carbon and nitrogen emissions