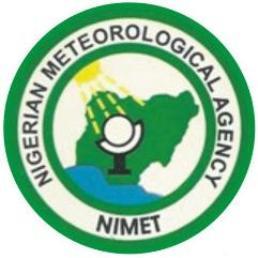 Yemisi Izuora
The Nigerian Meteorological Agency (NIMET), has advised authorities to utilise climate information to advance agriculture and boost food production in the country.
 The agency observes that the better use of climate information in agriculture would significantly support the country's push to transform the sector and make it sustainable.
 The Director General of NIMET, Prof. Sani Abubakar Mashi, who made this recommendation while presenting a paper titled Agrometeorological Service Delivery for Sustainable Agricultural Development in Nigeria to participants of the Senior Executive Course (SEC) No.39, 2017 Programme at the National Institute for Policy and Strategic Studies (NIPSS) in Plateau state, noted that "effective climate information and services will not only transform agricultural production from labour – intensive high-risk endeavor t the knowledge-based strategic enterprise but will also enable sustainable utilization of resources to achieve food security in the country".
 Speaking further, he asserted that climate and weather variability play an overriding role in determining the amount of the physical productivity of agricultural crops, livestock, and forests as well as the risk of the failure of the productivity.
 The DG also disclosed that with over 100 years climate information on Nigeria in its archive, NiMet has been playing a crucial role in addressing the issues relating to climate variability and change, and the possible impact on agriculture production and food security in particular.
 He urged the federal government to set in motion the National Framework for Application of Climate Services (NFACS); use of Information Communication Technology (ICT); and enforce effective intervention policies, amongst others.
 The event was organized by NIPSS for top officials drawn from both the private and public sectors. They had in-depth discussions and interactions on the theme Science, Technology, and Innovation for the Development of Agriculture and Agro-Allied Industries in Nigeria.