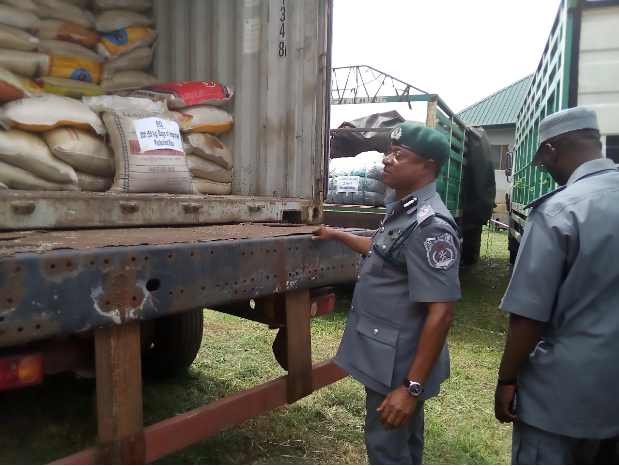 Hyacinth Chinweuba
The Comptroller General of the Nigeria Customs Service (CGC) Strike Force has been empowered to carry out its operational activities within the ports terminals to avoid being intercepted on the highway by Taskforce given authority to track down container trucks suspected to be concealed with contrabands.
The new directive indicates that the Strike Force operatives would henceforth participate in Cargo examinations in all the ports accross the country to avoid the alleged incompetency of the Service releasing officers compromise.
A statement issued to that effect did not show that the Anti-Smuggling operatives ends within the ports, but that its activities still remain as an enforcement unit outside the ports.
The statement further revealed that their responsibilities are basically to check excesses that might arise through physical examination by ports residents Customs officials, adding that any Customs Area Controller found culpable resisting the new Executive Compliance Order would face disciplinary action.
The new directive according to the statement was contained in a circular EII/2019/CIRCULAR NUMBER 002, titled "100% Examination of Cargo at the Ports", highlighting that the circular which was issued on the 25th of April 2019 and signed by Deputy Comptroller General A. Chidi, DCG (E,I&I) on behalf of the Comptroller General reads thus;
"It has been observed that 100 percent examinations of Cargo at the ports are not duly carried out by officers assigned with such responsibilities.
"Consequently, the following instructions must be carried out with immediate effect and Area Controllers will personally be held responsible for non compliance.
Sequel to the new directive, Area Controllers must respond positively and accordingly to the Strike Force intervention Alerts.
"The Strike Force team has been instructed to intervene right in the ports. "Non compliance to this circular will attract severe sanctions," the circular affirmed.
It would be recalled that the CG has earlier  deployed the Strike Force team into the ports to ensure strict adherence and its duty in the involvement of 100% physical examination of cargoes.
This however has attracted concerns from freight and forwarding agents and their respective importers who have threaten to down contest the new government directive.
Customs Management has officially confirmed the position of the Strike Force presence within the Nigerian ports accorded with a circular.
Though there is this issue of fears that has it that resident officers feel distorted by the new order of the government, claiming that their functional have been taken over by the Strike Force, while agents and importers are scared of their faith in the new customs cargoes examination procedure.
According to the statement, the new order is meant to promote legitimate trade facilitation by encouraging Ease of Doing Business at the various ports and free flow of trade as championed by the World Trade Organisation (WTO) and World Customs Organisation (WCO) of which NIGERIA Customs is a signatory.