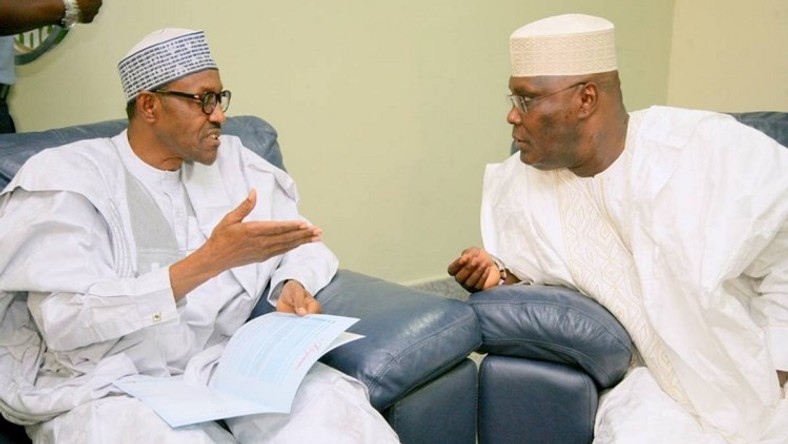 Source:Bloomberg
After a controversial 11th-hour delay in holding general elections a week ago threw Africa's biggest democracy into disarray, Nigerian voters are finally due to choose their next president on Saturday.
They face a stark choice between President Muhammadu Buhari and his war on corruption and multimillionaire Atiku Abubakar, who's promised to boost growth but is dogged by graft allegations.
With potentially 73 million people voting, the election for the presidency and parliament is the continent's biggest-ever democratic exercise. Much will depend on turnout, which was less than 44 percent four years ago when Buhari became the first opposition candidate in the West African nation's history to win power in what Barack Obama called a "historic step for Nigeria and Africa."
"I do think a lot of people will turn up," said Michael Famoroti, an analyst at Stears Business in the commercial capital, Lagos. "Nigerian elections are gradually getting cleaner. There are still some issues that we need to stamp out, but I think this one will be an improvement not just on 2015, but on recent state elections."
Though both candidates' parties blamed each other for being behind the postponement just hours before the polls were due to open on Feb. 16, Independent National Electoral Commission Chairman Mahmood Yakubu said it was down to logistical problems in distributing voting materials to the 120,000 polling units and not because of politics or security concerns. Everything is in place for the polls to open Saturday at 8 a.m., he told reporters in Abuja on Friday.
Buhari, 76, and Abubakar, 72, are both northern Muslims in a country split roughly evenly between a Christian south and Islamic north. Yet their career paths are very different.
Buhari is a former general who ruled the country briefly in the 1980s and morphed into a civilian politician who won on his fourth try for the presidency in 2015. Atiku, as Abubakar is widely known, has served as vice president and has 26 children and four wives. He has business interests ranging from oil and gas services to food manufacturing and a private university.
What the Candidates Are Promising
Muhammadu Buhari's Pledges
• Fight corruption
• Create 10 million new jobs
• Build roads, expand rail network
• Defeat Islamist militants
Atiku Abubakar's Pledges
• Pursue pro-investment policies
• Build infrastructure, create employment
• Sell stakes in the state-owned oil company
• Abolish multiple exchange-rate system
Both carry heavy baggage. Buhari and his ruling All Progressives Congress have faced sharp criticism for their handling of the economy.
Economic Contraction
After his inauguration, Buhari took six months to form a cabinet. He then imposed capital controls as the naira currency came under pressure amid plunging revenue form oil, the country's main export, and foreign investors fled. Nigeria's economy was hit by hits first contraction in a quarter century in 2016.
In a nationally televised speech on Feb. 14, Buhari declared Africa's biggest oil producer fully recovered from the slump. The economy expanded 1.9 percent last year, the fastest since his election.
Yet Nigeria now has more extremely poor people, 87 million, than any other nation, according to the Brookings Institution, a Washington-based think tank. The United Nations expects its population to double to 410 million by 2050, overtaking everywhere bar India and China.
Buhari's supporters paint him as a rarity in Nigeria: an honest politician who provides a sharp counterpart to Abubakar's People's Democratic Party that governed Nigeria for 16 years from the end of military rule in 1999.
Ballot Snatchers
Buhari's suspension of Chief Justice Walter Onnoghen, just weeks before Saturday's presidential election, was criticized by the legal community, the U.S. and the European Union. Onnoghen, who's pleaded not guilty to charges of false declaration of his assets, would probably have had the final say if the results faced a legal challenge, which some analysts think is inevitable.
The president's also generated controversy by saying that anyone who tries to rig the election "will do so at the expense of his own life." The PDP said the remarks showed Nigeria risked becoming a dictatorship.
Abubakar, by contrast, portrays himself as someone who knows how to get things done and his pro-market policies have won some favor among investors.
In an interview last month, he said if elected, he would name a new central bank governor, float the naira and sell stakes in the state-owned Nigerian National Petroleum Corp., which dominates Africa's biggest oil industry.
Since Buhari came to office, Nigeria's stock market has been the world's worst performer, losing about half its value in dollar terms. Wall Street banks such as Citigroup Inc. say Nigerian equities and bonds will probably rally if Abubakar wins.
But he has long been accused of using positions in government to enrich himself. A U.S. Senate report in 2010 concluded that Abubakar and one of his wives had wired $40 million of "suspect funds" into American accounts. Abubakar denies any wrongdoing and has never been indicted at home or abroad.
Whoever wins will have to deal with widespread violence in the northeast where insurgents, some now affiliated to Islamic State, have been fighting for a decade to impose their version of shariah law. The conflict has claimed tens of thousands of lives and forced more than 2.5 million people in the Lake Chad region to flee their homes.
The election campaign itself has been relatively peaceful, marked more by mudslinging than violence. Both sides accused each other of planning to rig the vote. Final results should be known within a few days after the close of the polls.