Yemisi Izuora here identifies digital financial services as one that enable individuals and businesses to conduct transactions electronically or online and open a pathway to a range of digital financial services in addition to digital payments, including credit, savings, and insurance. 
Access to affordable and appropriate digital financial services is critical for the participation of individuals and businesses in the digital economy. Guarantee Trust Bank is by all ramifications seen as leading Nigeria's financial sector in that space.
No doubt digitization has certainly changed Nigeria's financial sector and its working condition.
Digitalization of the Nigerian commercial banks has brought about new models in businesses, that is new ideas with regards to development and improvement in various areas, from mobile banking to financial transactions and internet banking.
Financial inclusion discussion has continued to assume increasing recognition across the globe among policy makers, researchers and development oriented agencies.
Its importance derives from the promise it holds as a tool for economic development, particularly in the areas of poverty reduction, employment generation, wealth creation and improving welfare and general standard of living.
A survey conducted in Nigeria in 2008 by a development finance organization, the Enhancing Financial Innovation and Access revealed that about 53.0 per cent of adults were excluded from financial services.
The global pursuit of financial inclusion as a vehicle for economic development had a positive effect in Nigeria as the exclusion rate reduced from 53.0 per cent in 2008 to 46.3 per cent in 2010.
Encouraged by the positive development, the Central Bank of Nigeria in collaboration with stakeholders launched the National Financial Inclusion Strategy on 23rd October, 2012 aimed at further reducing the exclusion rate to 20 per cent by 2020. Specifically, adult Nigerians with access to payment services is to increase from 21.6 per cent in 2010 to 70 per cent in 2020, while those with access to savings should increase from 24.0 per cent to 60 per cent and Credit from 2 per cent to 40 per cent Insurance from 1 per cent to 40 per cent and Pensions from 5 per cent to 40 per cent within the same period.
The channels for delivering the above financial services were equally targeted to improve, with deposit money bank branches targeted to increase from 6.8 units per 100,000 adults in 2010 to 7.6 units per 100,000 adults in 2020, microfinance bank branches to increase from 2.9 units to 5.5 units; ATMs from 11.8 units to 203.6 units, POSs from 13.3 units to 850 units, Mobile agents from 0 to 62 units, all per 100,000 adults between 2010 and 2020.
The federal government through its agencies and private sector partnership has made significant efforts in bringing more Nigerians into the financial system.
Subsequently, a meeting last year between the CBN, and the Bill and Melinda Gates Foundation, reviewed Nigeria's financial incluion target to 95 per cent from 80 per cent set in 2012, and extended the target year to 2024 from 2020 previously.
Earlier in 2019, the CBN, had expressed optimism that the 80 per cent financial inclusion target will be reached by 2020, but towards the end of that year it was obvious going by a data from Enhancing Financial Innovative and Access (EFInA) which indicated that 36.8 per cent eligible Nigerian adults still do not have access to financial services as of 2018, and that a likelihood of achieving the 80 per cent financial inclusion target by 2020 was slimmer and necessitated the review.
At a time when technology is disrupting the global financial services industry, Nigeria too has been part of the change. Although a cash economy, Nigeria's financial system is receptive to the new transformations in the financial system, especially the introduction of technology.
The CBN, has asserted its position that banks should digitize their services so as to support effective supervision of the financial system, data access, and management.
The apex bank has consistently prompted banks to embrace technology if they wanted to remain competitive because financial technology firms and even telecommunication companies were beginning to offer some bank-related services.
Telcos are giving banks a run for their money. Hence, banks need to be proactive in recognizing the impact of digitization on their services and overall operations.
It is important to understand and constantly discuss how technology is transforming the banking landscape, said CBN.
---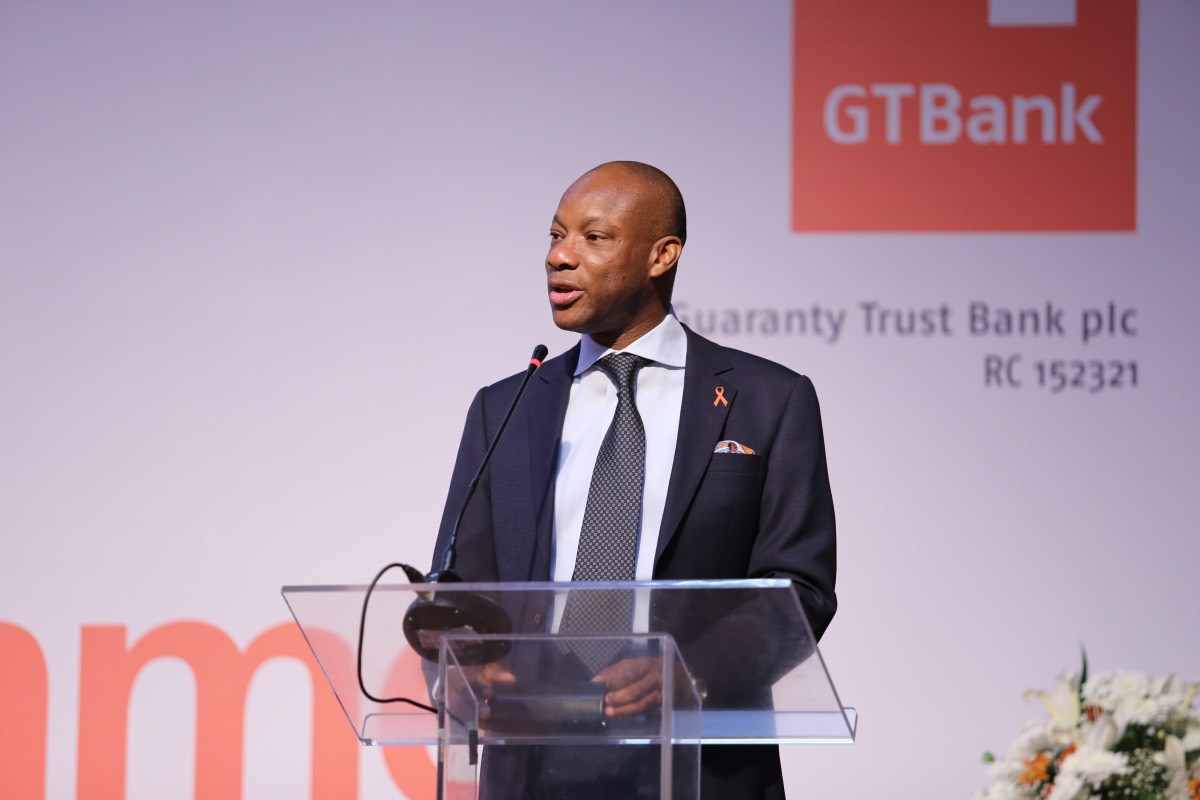 Changing The Narrative With GTBank Experience
Rising to the challenges the Guaranty Trust Bank GTBank) Plc, has expressed its determination and commitment to build a strong robust banking platform to drive financial services and accommodate the effects of disruptive technology in Nigeria. At the 2019 edition of the Social Media Week in Lagos recently, the bank presented a Roadmap in a paper with a theme:"Building the Bank of the Future", in which the bank said that digital technology through the fourth industrial revolution has disrupted different economic sectors ranging from retail trade to healthcare.
The bank observed that the economic outlook for Nigeria in the area of banking still leaves room for improvement as not all citizens are financially included but that government should provide a level playing ground between banks and telecommunication companies for more Nigerians to enjoy financial services.
People need banking and not banks and financial institutions that operate in the traditional mode, current paradigms will not last for too long, the bank expressed, in that widely acknowledged paper.
So that became clear why GTBank is building single trusted integrated platform in the financial services industry in Nigeria."
The bank also believes that the outlook for the Nigerian banking industry is always going to be up, until it reaches a mature stage.
It raised the concern that the industry is only banking 33/34 million people in a country that has about 190 million people and so there is still a lot of upside.
This is why GTBank evolved a leading innovation and disruption platform in the financial services market space through products like the USSD (737), Quick Credit for customers, GTWorld, GTMobile and a few others.
On the recent decision of the Central Bank of Nigeria to create "Payment Service
---
Leading Digital Banking Space In Sub-Saharan Africa
In 2018, a report released by the Economist Intelligence Unit (EIU), the research and analysis division of the world-leading business media platform, The Economist, identified GTBank, as leading a new generation of multinationals in developing markets with the competitive strength and capacity to become a major player in the global scene.
In its report titled, 'Going Global: 12 Companies to Watch in Developing Markets,' the EIU said GTBank leads the digital banking race in Sub-Saharan Africa by getting more customers to bank online, reducing the communication gap with its customers and allowing customers to conduct 90 per cent of their banking transactions from home.
The bank which operates out of 10 African countries and the United Kingdom, is one of 12 companies selected from four continents and spanning six industries, that the EIU believes has the strategy and potential to dominate domestic markets and expand its business outlays internationally.
"The lender's digital services extend beyond banking to online payments for services such as applying for passports," the EIU report added, whilst also stating that, "in traditional banking, GTBank has held its ground despite falling interest income and assets."
Regarded in the industry as one of the best run African financial institutions, GTBank has been the major driver of digital banking in Africa. The Bank is renowned for constantly delivering innovative financial products and services, such as its full-service USSD banking product, 737, which enables customers and non-customers access financial services on their phones, by simply dialing *737#, and the SMEMarkethub, a free online marketplace for people to buy and sell at no extra cost, amongst several others. Recently, the bank achieved another first in digital services in Africa when it announced that it will be leveraging the WhatsApp Business Solution to enable customers bank as easy and swiftly as they chat.
By being at the forefront of Africa's digital banking market and maintaining its leadership in traditional banking, the EIU said GTBank and all of the companies profiled in its report are well positioned and have the ambition, business acumen and capacity to go big, globally. The report also notes that GTBank and the others have their work cut out for them.
"They will have to counter ongoing global trade disputes and a rise in protectionism. With the tightening of global monetary conditions, there will also be considerable economic and competitive risks involved in investing in some markets."
Despite these challenges, the Economist Intelligence Unit says it will be closely tracking GTBank's impressive run for leadership in the global business scene.
"We will be examining their financial results, their new product launches, their marketing plans and the careers of their senior executives as they aim for the top."
In a booming digital banking market in Sub-Saharan Africa, GTBank, is racing ahead by getting more customers to bank online. It has been reducing the communication gap with its customers since 2006, when it opened its first self-service contact centre, allowing customers to conduct 90 per cent of their banking transactions from home.
GTBank's digital services extend beyond banking to online payments for services such as applying for passports. The bank also gets considerable revenue from upstream oil operations in Nigeria. With oil prices improving and local companies ramping up operations in areas such as the Niger Delta region, GTBank is expected to continue to play a crucial role in providing loans to energy companies.
By being at the forefront of Africa's digital banking market and maintaining its leadership in traditional banking, the EIU said GTBank and all of the companies profiled in its report are well positioned and have the ambition, business acumen and capacity to go big, globally. The report also notes that GTBank and the others have their work cut out for them.
As people move towards more digital banking and other financial transactions, banks are equally stepping up action in expanding the digital experience by offering their customers more and providing services such as USSD and app transactions in a bid to make payments more convenient and faster for people.
This has greatly reduced the digital divide between banks and fintech operators. And as GTBank earnings indicate, it is also proving to be a viable revenue generator for banks.
---
Recording Huge Revenue Via Digital Banking
GTB, like many Nigerian banks, has embraced digital banking, developing products for its customers.
Some of its digital banking products and services include its payments gateway GT Pay; its USSD banking, 737 and other e-payment channels.
From the NIP transfers carried out by its customers, the bank received a total commission of N11.15 billion for the year ended December 2019. This makes NIP the largest contributor to GTBank's digital earnings.
NIP (NIBSS Instant Payment) transfer is a point to point funds transfer service that guarantees that monetary transactions are carried out the instant they are required.
NIBSS is responsible for the interoperability between the various players in the financial system. This involves the ability of Banks, Mobile Payment Operators, Non-Banking Financial Institutions, Payment Terminal Providers, Card Acquirers, Government Institutions etc., and their customers, to send, receive and process funds, documents and other instruments electronically through a common channel – NIBSS.
When customers use its USSD codes to carry out financial transactions, GTBank charges a convenience fee. In 2019, the total convenience fee amounted to N2.13 billion. This is a significant 34% increase from 2018's value of N1.58 billion made by the company.
From its e-channel income and bills payment, a total of N1.92 billion was made. This also represents an increase of 52 per cent from the previous year's earnings of N1.26 billion.
GT Pay is one of the major products in the bank's e-channel line which merchants use as a gateway for bills payment for goods and services.
While making it easy for subscribers to go cashless and be able to pay with a wide range of ATM cards like dollar cards, MasterCard, Visa cards, etc, the bank has also made significant earnings for its efforts.
From card transactions, GT bank recorded an annual earning of 3.23 billion in 2019. This improved by 28 per cent from its 2018 value of N2.53 billion.
This increase in GTBank earnings shows that while fintech operators have a huge and growing market for their digital financial services, some traditional banks have honored the invite to the digital party.
This is a positive development for the financial sector as all players will have to innovate constantly in order to remain relevant and keep their balance sheets black.
---
Restructuring Into A Holding Company
Towards the end of last year, GTBank made a statement of fact that it wants to restructure as a holdings company.
A holding company is a form of financial organization that owns a controlling interest in other businesses, called subsidiaries.
For GTBank, the restructuring will allow the bank to develop other businesses beyond pure banking.
Before 2012, GTBank operated a number of non-banking services. It operated GTB Asset Management for capital market services and GT Assurance, its insurance arm. However, a 2010 regulation by the CBN, forced banks to stop operating their non-banking subsidiaries. They either had to divest from non-core lending service or restructure as a holdings company.
Most banks chose to divest. GTBank sold GTB Asset Management; it is now known as Investment One.
Meanwhile, a consortium of investors acquired GT Assurance and renamed it Mansard Insurance. Today it's known as AXA Mansard Insurance.
Other banks chose to switch to the holdings model.
---
Developing Fintech Products
One striking aspect of GTBank restructuring is not to offer more banking services but is striving to develop fintech products and build out its payments and fintech arms.
About a decade ago, the bank made a decision then looking at the operating environment, and to shed all its subsidiaries and become completely bank-focused.
Despite recording a 6.6 per cent profit increase to ₦231.7 billion ($640.4 million) in 2019 and adding over 7 million new customers within two years, the bank isn't relenting. Sounding like a startup founder hungry for growth, the bank is saying that  pure banking isn't growing fast enough.
Most banks are growing 5 per cent to 7 per cent and GTBank sees that as not sustainable.
The bank believes that by restructuring into a holdings company, the restructured entity will be able to pursue new growth prospects beyond pure banking.
The banks  payment business is growing by about 60 per cent and still going up.
Over the last few years, the bank has been the most aggressive traditional institution competing against fintechs in Nigeria. It operates different digital products including digital lending (QuickCredit), payments (GTPay) and a superapp, and it has been very aggressive in promoting them.
The bank is basically building its own platforms. In every payment platform space it has a competing product," Agbaje said at the event.
GTBank's lending service, QuickCredit, is an interesting example of how the bank is competing with fintechs.
When the CBN pressured banks to increase their lending ratios, GTBank crashed interest rate on QuickCredit, making its loans cheaper than loans from startups like Carbon and Migo.
However, it is the payment business that the bank is most focused on.
About 30 per annum of banking revenue comes from the payment space and it is estimated that the payment market, [paywall] could grow between $20 billion and $40 billion in the next few years. But fintechs are eating into this revenue.
Consulting firm, Frost & Sullivan predicts that Nigerian fintech revenues will grow from $153.1 million in 2017 to $543.3 million by 2022. What this means is that 30 per cent of banking income is easily at risk.
GTBank is trying to avoid the inevitable for banks and in addition to building rival payment services, the Bank is scaling up its own superapp called Habari.
The recently launched "Habari App" provides unique services to customers, from their play experience, to messaging, e-commerce and payments.
Habari App provides a platform and infrastructure for them to reach out to multiple customers at the same time.
The bank looks at increasing coverage of communities while servicing 15 million existing customers with its dynamic or invigorating quality products.