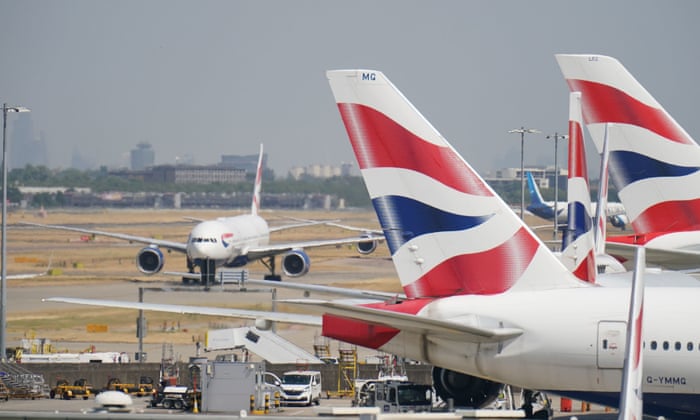 Ken Okeke
Heathrow Airport has announced that about 15 per cent of its schedule will be altered on Monday during Queen Elizabeth's state funeral.
This is to ensure the skies over London fall quiet during the events, it said.
There will be flight cancellations as a result, including 100 British Airways flights and four Virgin Atlantic flights.
Among the cancelled flights will be many that fly over France, not just to and from the country.
Heathrow said that all takeoffs and landings on Monday will be delayed for 15 minutes before and after the two-minute silence at the end of the funeral.
Following that, there will be no arrivals between 13:45 BST and 14:20 BST during the procession of the hearse, and no departures between 15:03 BST and 16:45 for the ceremonial procession via the Long Walk to Windsor Castle.
Between 16:45 BST and 21:00 BST, departures will be reduced to support the committal service at St George's Chapel.
Flights will also be diverted around Windsor Castle "to minimise noise during the private family service and interment", it said.
In a statement, Heathrow apologised for the inconvenience but said that "as a mark of respect, operations to and from the airport will be subject to appropriate changes in order to avoid noise disruption at certain locations at specific times on Monday".
The Civil Aviation Authority (CAA) has issued guidance which means that air passengers whose flights are cancelled or badly delayed on Monday because of Heathrow's changes will not legally be entitled to financial compensation. That is because these are likely to be deemed extraordinary circumstances.
However, airlines are offering customers refunds or re-bookings.
British Airways said its cancellations were on short-haul European flights where multiple services run on the same route, and that it was adding larger aircraft where possible to help customers re-book on operating flights.
Alternatively they can choose to have a refund. No long-haul BA flights will be affected but some will be re-timed.
Virgin Atlantic also apologised for the inconvenience. A spokesperson said passengers on the affected flights, between Los Angeles, San Francisco and Heathrow, would be rebooked on alternative same-day services wherever possible, or could rebook for later dates, take a voucher or request a refund.
It said the airport and airlines were working closely with the air navigation service provider NATS to minimise the impact of these restrictions on passengers.
A Heathrow spokesperson added that extra staff would be on hand in terminals to support passengers, and that people were encouraged to travel on public transport instead of by car, because roads around the airport would be extremely busy.
Other changes at Heathrow during the period of national mourning include observing the National Moment of Reflection with a one-minute silence at 20:00 on Sunday, showing the Queen's funeral on screens at the airport on Monday, and closing non-essential shops.
Shops deemed "essential", such as WH Smith, Boots and Travelex, will remain open along with restaurants, cafes and pubs.