Nigeria's agriculture sector over the years have had poor access to financial services that enable farmers and other agricultural producers to adopt new technologies, improve market linkages, and increase their resilience to economic shocks.
Yemisi Izuora writes that poor access to financial services that enable input suppliers, processors, traders and others in agribusiness to address liquidity and encourage targeted private sector engagement in agriculture remains a challenge, until recently Heritage Bank deploys huge resources and services but with firm partnership with the Central Bank of Nigeria, CBN, to lift the sector to enviable position.
Beginning from 2010 to 2011, the federal government after years of neglect, began to reform the agriculture sector and to refocus the sector, government decided to implement a new strategy known as the Agricultural Transformation Agenda (ATA).
In 2011-2016, the focus was on rebuilding a sector whose relevance had shrunk dramatically which reflected in the lack of lending to farmers by the financial system and the dramatic levels of food imports from across the world.
That intervention, the ATA, served its core purpose of helping refocus Nigeria's attention on agriculture.
Development of Agriculture continues to remain a critical issue for Nigeria's economic growth, poverty reduction and ensuring food security of the country, as over 70 per cent of the rural households depends on agriculture as their principal means of livelihood.
The recent volatility of food prices enduringly affected Nigerian food system. The imposing of import restrictions by the government while prices of food were high and resulting distrust in the functioning of the price of crude oil at the international markets forced countries that depend on agricultural imports to change their strategies to meet domestic demand.
Given this development, many Nigeria financial institutions started investing in agriculture. Several of these large scale investments triggered high rates of agricultural growth in recent times.
In Nigeria, with access to finance still a significant challenge, agriculture remains underdeveloped with the majority of farmers in the rural areas still practicing subsistence farming.
A very commendable gesture by the Central Bank of Nigeria (CBN), is the decision of the bank to go into collaboration with the government and commercial banks to establish some notable agricultural schemes as a way of bridging the funding gap.
Such interventions include the Commercial Agriculture Credit Scheme (CACS), Commercial Agriculture Development Programme (CADP), and the Interest Draw-back scheme, Agricultural Credit Support Scheme as well as the recently introduced Anchor Borrowers' Programme (ABP).
The broad objectives of most of the schemes are to fast track development of the agricultural sector by providing credit facilities to commercial agricultural enterprises at a single digit interest rate; enhance national food security by increasing food supply and effecting lower agricultural produce and product prices, thereby promoting low food inflation; generate employment and diversify revenue base.
In all of these commercial banks in the country commendably keyed into those measures that have seen the sector lifted out of inactivity.
---
Heritage Bank's Exemplary Intervention
Heritage Bank Plc, by every instrument of measurement has distinctly and evidently made funds available to both individuals and corporate organisations in their efforts to increase agricultural output in line with governments policy and CBN intervention strategies.
The bank has palpably financed critical agricultural projects in the country and, in the process supported many farmers.
As one writer recently noted, "Since the five eventful years, the bank has opened its doors to its teeming customers, the showpiece of its operations is a full gamut of completed, on-going and nascent people-oriented programmes- create, preserve and transfer wealth across generations in the country.
This line of operation is steadily yielding great results as the nation continues to move its economic base towards the direction of the future, with a robust emphasis on thoughts about diversification of the county's economic base."
For some period of operation, Heritage Bank is being positioned into a bigger and stronger financial institution that is placed to play a significant role in the much-envisaged transformation of the nation's financial sector in line with the country's stature as one of Africa's largest economy.
With the increasing recognition of agriculture as the 'beautiful bride' of Nigeria's economy, Heritage Bank's unfaltering energy and commitment in agricultural financing which are fast gaining new interests and more attention within the business circles is helping to rebalance the sector such that Nigeria would soon become the food basket of the African continent.
As agriculture continues to be business, financing provides tremendous opportunities for lenders and borrowers, either at small or large scale.
Heritage Bank has not only encouraged both governments, corporate and individual (including young people to embrace optimal productivity and greatness in this sector), it has taken the front seat in the drive to support them in the attainment of noble agricultural virtues by funding various agricultural projects in several states in the country.
---
Partnerships As Growth Strategy
The Bank believes in team work and that is why partnership with various critical stakeholders and institutions remain a major consideration to realise its objectives.
In line with its collaborative initiative the Heritage Bank Plc entered into a partnership understanding with the Nigeria Incentive Based Risk Sharing System for Agricultural Lending (NIRSAL) in a bid to improve the agriculture value chain though increasing financing to the sector.
The partnership aims at identifying and securing financing of impactful agribusinesses within all the segments of the agricultural value chain.
The financing was designed to cover segments from primary production of raw materials and sustaining the processing industries to exportation of the produce.
Ifie Sekibo, the Managing Director of Heritage Bank, offered a wonderful explanation as to the reason for the partnership.
To him, the partnership will avail credits at very low interest rates to commercially viable agricultural projects that have been packaged and fully de-risked.
Before then arrangements have been concluded by the bank to revolutionise agricultural sector by widening and deepening the participation of digital generation in agribusiness.
Sekibo was convinced that support of NIRSAL would help the bank develop a digital agribusiness platform that will strengthen distribution of human capital that meet parameters of agribusiness.
NIRSAL, on its part highlighted the need of complete visibility of the sector, which can be achieved through equipment, technology and financial capital injection, with a full complement to Heritage Bank for its concerted efforts in supporting agric sector in continuation with its partnership with NIRSAL.
In appreciation the agency assured the bank of priority ticket to support its unique feats to the growth of the agricultural value chain.
NIRSAL, agreed to serve as a catalyst for national agricultural revolution by boosting commercial agricultural productivity, competitiveness, value addition, market access and enhancing food security and will deploy mechanism of de-risking the agricultural value chain in order to encourage investment by banks and the entire financial sector.
Sekibo, also said that the lender will focus in supporting the agricultural space through financing farmers to purchase modern technology.
The bank chief noted that the funding will bring about transformative development in the sector, which has been getting government's attention lately.
Sekibo, reiterated the financial institution's commitment to further deepen the drive to support agribusiness value chain in order to fast track food security and sufficiency in the country.
He said the bank will continue to make farming profitable to stakeholders and attractive to the youth by boosting the agric base of the nation so as to support food sufficiency and that Heritage Bank will support the drive for cash crop commodities that would boost Nigeria's foreign exchange earnings, which the present administration has always been cautious given the dangers the continuous reliance on imported food items pose to its efforts to create jobs as well as develop and diversify the economy.
Also, the bank's Group Head, Agriculture Finance, Mr Olugbenga Awe, disclosed that Heritage Bank was committed to the development of agribusiness and small and medium enterprises (SMEs).
"Our support cuts across the entire value chain with focus on large corporates and small holder farmers.  We encourage value addition and ultimately export," he said.
He, however, noted that the bank's support goes beyond food sufficiency to increasing cash crop commodities that would boost Nigeria's foreign exchange earnings.
He hinted that Heritage Bank is effectively tackling the bottlenecks since it has long identified the opportunities in agribusiness, thereby offering solutions to ease of doing business in the sector.
"For ease of financing, we would be better off with functional commodity exchanges as a country. We can start by refinancing commodities through warehousing receipt systems, gradually we will move to crop receipt.
"With commodities exchange, the value-chain is strengthened and the whole system is structured.
"Exchange helps in reducing the long marketing chain, it helps in enforcement of commodity standards, it provides price certainty and in some cases storage and warehousing facilities," Mr Awe suggested.
He further noted that, "If we sustain the current momentum on rice, we shall surely export rice in the nearest future, and the operative word here is sustaining the momentum. However, there is need for strategic alignment on objectives.
"The current focus by government is on small holders' farmers using the instrumentality of the Anchor Borrowers Programme (ABP) by Central Bank of Nigeria."
The Agriculture Finance's Group Head also said to hasten the export drive, commercial farmers will have to step in and drive the process using mechanization on thousands of hectares of farmland with vast irrigation networks and all year round farming as most importers need large quantities delivered on schedule.
Meanwhile, he noted that with the Heritage Bank strategic partnership, CBN had continued to provide lot of supports through various on-lending scheme, as ABP has made visible and measurable impact especially in rice, while hoping other commodities especially grains would follow.
Mr Awe explained that via the strategic partnerships Heritage Bank have achieved vast footprints in agribusiness.
"For example, through our partnership with Triton Aqua Africa Limited and on-lending support from CBN, Heritage Bank has provided N2 billion for fishery to reduce our heavy reliance on fish import.
"Nigeria's current annual demand for fish is estimated at 2.7 million metric tonnes and we currently produce about 800,000 metric tonnes.
"With support from CBN through Commercial Agriculture Credit Scheme CACS, Triton is now producing about 27,000 metric tonnes and their projection is to reach 100,000 metric tonnes in five years.
"From recent forecast, they will meet that projection easily. The bank is also supporting rice farmers under the ABP in Bakolori, Zamfara, Sanga in Kaduna and Soyabeans farmers in Rijana, Kaduna. Heritage Bank also has ongoing projects across the country," he said.
This line of action has readily compelled young and vibrant minds into getting involved in providing affordable financial solutions that can help agribusiness investors in various aspects of agriculture.
Presently, the bank is practically involved in preparing a good future for the youth, which is imperative, while recognizing the need to expand the horizon of young people, broaden their options and increase their choices.
The institution realized that the youth are needed as solution providers, incubators of ideas, promoters of innovations and implementers of positive change through agriculture and entrepreneurship.
---
Partnering The CBN
Heritage Bank Plc in collaboration with CBN has provided N2billion long term facility under the Commercial Agriculture Credit Scheme (CACS) to Triton Aqua Africa Ltd (TAAL).
TAAL known as Triton Farm accessed the CACS through Heritage Bank, which was used to set up aquaculture businesses; nursery/hatchery to produce fingerlings and brood stock in Ikeja and earthen ponds for catfish and Tilapia in Asejire, Iwo and Gambari towns in Oyo State.
Under the arrangement, TAAL will also help small-scale farms increase their fish production by making fingerlings available to them.
In the short term, the loan is expected to help Triton double its current production capacity of 25,000 metric tonnes with a projection to scale it up to 100,000 metric tonnes in five years.
The bank also has thrown its weight behind Globus Resources Limited, a subsidiary of Triton Group, to flag off the second phase of afforestation programme in Oyo state.
Nigeria's current demand capacity for fish is estimated at 2.7million metric tons and the country currently produces 800,000 metric tons.
Triton is now producing 25,000 metric tons and with them on board, about 25,000 metric tons capacity will be added to our current production, the company's projection is to reach 100,000 metric tons in 5years.
Heritage Bank With State Governments
Heritage Bank is also in partnership with the Oyo State government in a multi-billion-naira project to give agriculture a boost in the state.
Under the initiative, the bank is supporting the Oyo State Agricultural Initiative, OYSAI, a programme designed to revive agriculture, boost agro-allied businesses and massive empowerment programme for both youth and women across the state through the creation of thousands of jobs in the sector.
This huge, albeit laudable, project that is spread across 3,000 hectares of land in 28 of the 33 Local Government Areas of Oyo State, is in three stages: food crop cultivation, cash crop/horticulture, and food processing.
Poultry farming in Oyo State – N29million received from NIRSAL and disbursed to farmers Maize cultivation in Ogun State – N157million received from NIRSAL and disbursed to farmers Cassava cultivation in Kebbi State – Transaction size is about N500million approved by CBN.
Heritage Bank Plc signed N232 million pilot phase of the out-growers agreement with Biase Plantations Limited (BPL), and its joint venture partner, PZ Wilmar Limited to produce best-in-class palm oil, using the ABP model.
The first tranche of N113million has been received and disbursed accordingly. The pilot scheme covers 45 farmers, grouped into four co-operative societies with a land mass of 150 hectares, and the funds to be administered is from BPL.
Heritage Bank is supporting agro investors involved in this initiative with funds and advisory services and indications are that the programme has already led to more than 30 per cent increase in food production in the state.
Heritage Bank has also supported several small holder farms in Kaduna and Zamfara states to benefit from the bank's financial support for rice and soya beans production under the Central Bank of Nigeria's Anchor Borrowers Programme (ABP).
The Bank's drive to support rice production is borne out of the conviction that agribusiness is profitable and the act of patriotism to achieve food security and sufficiency in the country.
Heritage Bank is effectively tackling the bottlenecks since it has long identified the opportunities in agribusiness before the collapse of crude oil prices through its various programmes which will contribute to the projection for the year 2020 in the production of 7.7million metric tons of milled rice or 10.8million metric tons of paddy rice at milling recovery ratio of 62 percent.
On Heritage Bank's involvement in ABP, the Bank provides on-lending funding to aggregated farmers to grow various products that will serve as raw materials to the processors, thereby ensuring market linkages and access to the market as well as reduce importation and conserve Nigeria's external reserves.
In 2016, the sums of N54,892,728.00 and N248,413,350.00 were sourced from CBN and disbursed as loans to 185 rice farmers and 414 soya bean farmers respectively in Kaduna State.
In 2016, N37, 995,300.00 was disbursed to 259 rice farmers via 11 cooperatives in Zamfara State.
---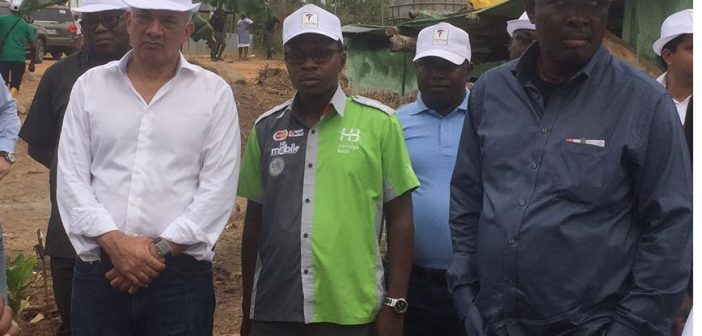 Promoting Agricultural Value Chain
The Bank is not relenting in its efforts at boosting the agriculture base of the nation to make farming profitable to stakeholders and attractive to the youth.
The Bank is deeply focused in supporting agribusiness through financing the purchase of modern technology, as it would bring about transformative development to the economy in general.
It is also supporting the drive for cash crop commodities that would boost Nigeria's foreign exchange earnings, which president Mohammad Buhari's administration has always been cautious given the dangers the continuous reliance on imported food items pose to its efforts to create jobs as well as develop and diversify the economy.
Facilitating N3B YIEDP Initiative
The Bank is also encouraging youths in agriculture through partnership with CBN under the Youth Innovative Entrepreneurship Development Programme (YIEDP) to start young and create wealth.
Earlier statistics show that 80 per cent of applicants under the youth empowerment programme choose agriculture as the preferred sector.
It is in recognition of the Bank's  track record in this regard that influenced its selection by the CBN as its pilot partner for the execution of the N3billion YIEDP.
The programme is aimed at creating sustainable wealth and employment in the country with a focus on dependable job-creating sectors such as agricultural value chain (fish farming, poultry, snail farming), cottage industry, mining, and solid minerals, creative industry (tourism, arts, and crafts), and Information and ICT.
---
Recognition
No doubt Heritage Bank's unswerving lending to agriculture sector has earned it deluge of accolades.
To its portfolio Heritage Bank Plc, earned the Nigeria's Most Innovative Banking Service Provider in 2017 that was bestowed with the inaugural Nigeria Sustainable Banking Award convened by the CBN "For Sustainable Transaction of The Year in Agriculture."
The Nigeria Agriculture Awards (NAA), at its annual event convened by AgroNigeria (The Voice of Nigeria's Agriculture), to appreciate immense efforts of those who have contributed to the success of the agriculture sector in the country, announced Heritage Bank as the Agric. Bank of the Year.
According to NAA, Heritage Bank was selected in recognition of its footprints in the Agric. space, especially the Triton Aquaculture Project.
Also, Heritage Bank Plc which has been adjudged the lead settlement bank for Gezawa Commodity Market (GCMX), has collaborated with key stakeholders to revolutionise the agricultural value-chain.
The collaboration was aimed at providing fully integrated ecosystem for commodity Exchange.
Heritage Bank was appointed the Lead Settlement Bank and Transaction Adviser to GCMX and a memorandum of understanding (MoU) was signed between the two firms, whilst over 10, 000 farmers in 3000 cooperatives in the 44 local governments of Kano States were hosted.
The partnership between Heritage Bank and the Exchange would facilitate the ease of agro commodity trading in a more structured way, especially with the closeness to the Dawanu, the largest grain market in Africa.
The MD/CEO of Heritage Bank Plc, Ifie Sekibo, who was a panelist at the second GCMX Farmers' Cooperative Forum in Kano said the partnership was to de-risk the sector and bring about structured and enhanced agro-business and attain food security that leads to economic development.
Sekibo, explained that the partnership which would help bridge the huge gap associated to risk, would fast track effective price discovery mechanism and traceability and enhanced trade settlement services.
Specifically, he stated that under the Central Bank of Nigeria's Anchor Borrowers Programme (ABP) and the Nigeria Incentive-Based Risk Sharing System for Agricultural Lending (NIRSAL), Heritage Bank would provide on-lending funding to aggregated farmers in the 2020 farming season to grow various products that will serve as raw materials to the processors, thereby ensuring market linkages and access to the market as well as reduce importation and conserve Nigeria's external reserves.
According to him, with its assigned position Heritage Bank would play a pivotal role in ensuring that there would be an effective and readily available platform for market linkages among players in the agribusiness value chain, involving FMCGs, warehouse operators, collateral managers, processors, farmers' cooperatives to transact in a seamless way that guarantee quality, quantity, payment and delivery.
Because the challenges are daunting, Heritage Bank Plc is also calling on government at all levels and deposit money banks to increase supports in agriculture, as it is the most resilient and important sector of Nigerian economy, despite underwhelming investment in the sector.
The Bank believes that increased focus on the agriculture sector would contribute to the Job creation objectives of the Economic Recovery and Growth Plan (ERGP), as its labour intensive process across the value chain has the potential of creating multiple jobs, create wealth, and increase the sector's contribution to GDP and foreign exchange earnings
Heritage Bank observes that the under-performance of the sector is closely tied; amongst other factors; to poor credit access from banks.
The Banks also observes underfunding of Nigeria's Agricultural research institutes that are established to drive the sector's business.
It is in the Bank's opinion that successful implementation of Government's Recovery Plan provides significant opportunities for entrepreneurs, investors and financiers particularly in the Agro-allied Sector.
Also, investments in infrastructure (energy and transportation) are supportive of the Agric-led growth and to explore options for de-risking and unlocking bank lending to the Agric sector so as to develop and position the sector for increased contribution to the Nigeria's GDP and revenues, there is need to Continue regulatory driven intervention funds to increase access to credit at single digit rates and long tenors, Improve knowledge of Banks and Bankers on Agric finance and Agricultural Risk Management through focused capacity building and many others, said the Bank in its submission for a better agriculture driven economy.