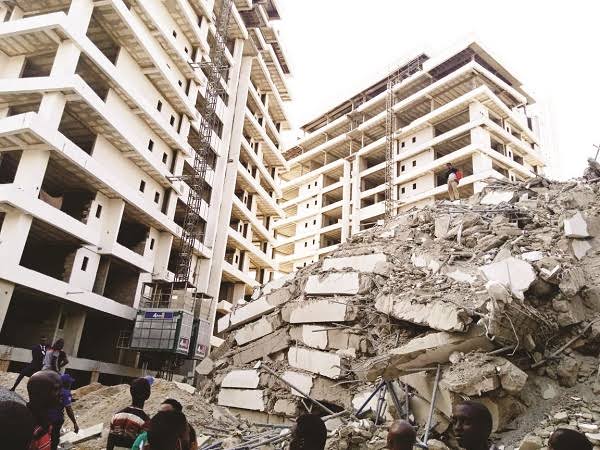 A structural engineer, Mr Olayemi Esho, who worked as a non-resident engineer for the collapsed 21-storey building on Gerard Road, Ikoyi, Lagos State, on Thursday said his role was advisory.
Esho said that he served as a non-resident engineer to the late Mr Femi Osibona, Managing Director of Fourscore Heights Ltd., the contractor of the project.
Osibona died in the building collapse which occurred on Nov. 1, 2021.
About 49 others perished in the building collapse.
The News Agency of Nigeria (NAN) reports that Esho testified before an Ikeja Coroner's Court unraveling the circumstances that led to the building collapse.
The engineer, who said he had been in service for 12 years and designed over 30 structures, said he used the British Structural Design Standard.
During cross-examination by state counsel, Mr A.S. Odugbemi, the witness said that his role was advisory, adding that his work relationship with Osibona was like that of a father and his son.
"I was only contacted to make sure that the structural designs were followed. I was only an adviser.
"He showed me structural designs and my role was to ensure that what was written on the structural drawing was what they built.
"As an engineer on site, my role was mainly advisory," he said.
Questioning the witness further, Odugbemi asked if he was satisfied with the quality of materials used for the building, as a consultant engineer.
"As a consultant engineer, I advised that more attention must be paid to the quality of materials used. The relationship we had was like that of father and son,' he said.
Odugbemi asked if the witness had come across the Lagos State Bulding Regulation Code.
The witness replied in the negative.
While responding to a question by the Coroner, Mr Oyelade Komolafe, the witness testified that he had not handled such magnitude of project.
He added that he gave his professional advice to Osibona.
"I have not done this magnitude of project before, and when we realised there was no quality control on the site, I advised him but there was no formal contract between us.
"It was oral because of the father-son relationship that we had.
"I am a non-resident engineer though I did not come across any resident engineer on the site," he said.
The witness, who said he was a registered member of the Council for the Regulation of Engineering in Nigeria, however said that his company – Beyond Design Ltd. – was not registered with the council.
When asked why he did not notify Lagos State Government when he discovered that the floors of the buily were increased to 21, he said, "As I said earlier, my relationship with the deceased was like that of father and son, and I could only give advice as a non-resident engineer," he said.
The witness said that, in June 2021, he declined to write a letter of certification for the building.
The coroner adjourned the case until March 18 for continuation of trial. (NAN)