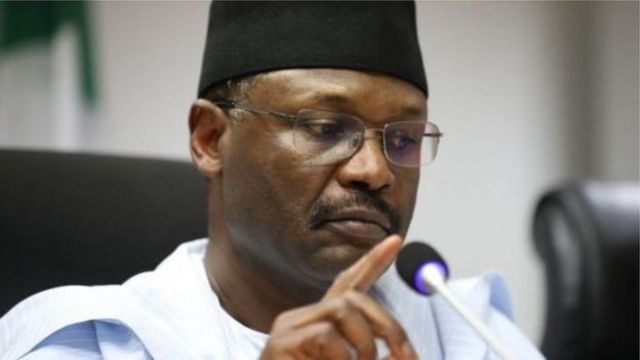 Moses Ofodeme
The Chairman of the Independent National Electoral Commission (INEC), Prof. Mahmoud Yakubu has said that the Commission often find it difficult to access some polling units due to their obscure locations.
During a meeting with Senate President Ahmad Lawan, the INEC chairman stated that out of 119,973 polling units in the country some units are in a state of crisis.
He noted that over 25 years, no addition has been made to the existing polling units in the country, adding that the existing polling units are not sufficient in the face of COVID-19 pandemic
"What is the state of voter access to the polling units in Nigeria? The simple answer is that it is in a crisis and has been so for some time. The right to vote is a fundamental democratic right. However, existing polling units can no longer guarantee the exercise of that right because of the crisis of access to them.
"The crisis I must say affects all parts of the country. We have a quarter of a century; 25 years in this country without changing the existing polling units under a situation where 119,973 were established way back in 1996 by the then National Electoral Commission of Nigeria. They are no longer adequate. They are not conducive especially in the context of the COVID-19 pandemic."
Commenting on the crisis facing polling units, the Chairman said some polling units are overcrowded; noting that they are prone to electoral violence and this sometimes leads to cancellation of elections; as well as the declaration of some results as inconclusive.
"Some are located in conflict areas, homes of political chieftains, forest and even shrines."