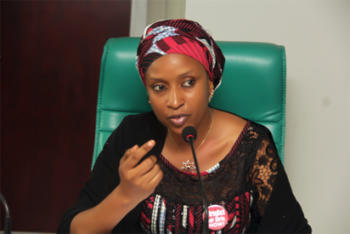 Hyacinth Chinweuba
The Ministry of Works has been blamed for the many years of perennial traffic crisis being suffered in Apapa and Tin Can Island ports environments.
Managing Director of the Nigerian Ports Authority (NPA) Ms Hadiza Usman said it has taken the Works Ministry 10 years to complete the trailer park in Tin Can Island which would have been able to serve as a safe haven for trucks in the port areas.
Usman who was guest in a radio programme in Lagos disclosed that the management of NPA had requested to take over the project to facilitate its quick completion but was not allowed.
She called on the Ministry to do everything to conclude the project, adding that this was the only way to address the congestion on the Apapa ports environment.
She said, "I have held discussions with the Ministry since I assumed office and requested that they should hand over that trailer park to the NPA so that we can conclude the shore protection and have it ready since December 2017, yet we are still here.
It has not been finished. The traffic situation in Apapa will not reduce until there is a concerted effort in providing trailer parks."
Usman called for the construction of more trailer parks outside the seaport environment to be able to decongest the roads leading to the ports.
She disclosed that the NPA had few weeks ago withdrawn the lease granted for the use of Lilypond terminal to be able to use it as a trailer park.