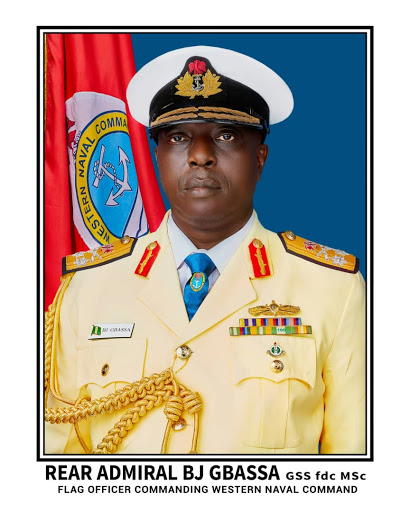 Hyacinth Chinweuba
Nigerian Navy (NN) has reiterated  commitment to community development through its Corporate Social Responsibility(CSR) projects.
To this end, it embarked on renovation of the Lagos State Nursery and Primary school,  Ajegunle area of Lagos.
While giving his remarks at the school, Flag Officer Commanding (FOC) Western Naval Command, Rear Jason Gbassa, said the command has commenced renovation works in the school in line with the Chief of the Naval Staff strategic directive.
"This school that we are, is the second school that would be benefitting from such intervention this year by the command.
"Based on your request from your ship and the United States consulate that the ship wishes to join Western Naval Command in our little efforts to provide corporate social responsibility in our area of responsibility," he pointed out.
Gbassa, who was a represented by the Command Project Officer, Captain Olumide Faneye, said the community services being carried out by the officers and men of the Visiting United States ship will take a form where we need to engage in  physically sweeping while some will be painting as what we generally know as cliching.
"Based on this we will have two teams, we re going to divide ourselves into two teams, the first group will be group of twelve in  numbers for painting while the second group, a group of ten will be for sweep leaves to park refuse into the dust bin  for well over thirty  minutes.
"If we still have more time, the two groups can swipe, all these activities that Western Naval Command has agreed to embark on is all geared towards making learning and teaching more conducive,"he said.
Also speaking, the education secretary, Ajeronmi Ifelodun Local government secretary committee, Mr. Abiola  Olanipekun,  thanked the  team of NN and US ship for the laudable community excerise program by giving the school a befitting atmosphere and renovation of the classrooms.
"Let me use this opportunity to say a big thank you to the Nigerian Navy for their community service that they came to do in SUPEB model nursery and primary school in Odi Apapa area of the state"
"It is what we really ask for that we are seeing here, we are so grateful to the Nigerian Navy for giving us a facelift of this school" she said.