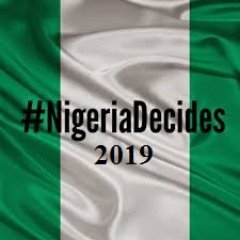 Words of the wise are like sharp goads when their sayings are written down and saved they can be used to guide people. People walk way from the truth because they can't afford to pay the price so I believe planning ahead will protect you and keep following you to avoid the wrong path evil people have planned for you. We have two main candidate running for the 2019 presidential election which is president Muhammadu Buhbari and former vice president Alh Atiku Abubakar.
   Salami Edet said "characters shows leadership abilities". A feeble character limits your ability and break trust, strong characters etc. From ypthis point I believe those who act responsibly support liberations while those who act irresponsibly oppose evil and if Nigeria has a nation want liberation president Buhari must return back into power in 2019. And if we fail to find solutions to the fault by choosing right in 2019 general election we may end up repairing  throughout the days of our life.
   Did you know that president Buhari is the only Nigeria president that was not accused of corruption and if corruption is one of the basis of our problems in Nigeria, president Buhari is incorruptible and his running mate is clearly known to be corrupt. Imagine voting for a candidate mentally unfit; someone that isn't even loyal to his boss, someone who sold everything to himself and have been crossing from one party to another. On September 11, 2013 the eagle square online recorded that Obasanjo said " Nigerians should ask Atiku why he has not visited the the united state since he left office, if he has no case to answer". The former president has also claimed he can't travel to US again over corruption and we all know the recent one where he said if he support him, God won't forgive him.
   On Feb 20, 2007 sahara reporters reported that….. "In the course of his eight years stewardship, Mr Abubakar has managed to corner controlling shares in bank PHB, controlling shares in Intel, an oil service an oil services company which operates in Angola, Equatorial Guinea, Gbaon and sao tome; controlling shares in AP petroleum which he was forced to divest recently in a hail of controversy regarding the ethics of his management of the country's privatization program. Added all, those assets must be included in the control of huge assets in real estates in Yola where today (Feb 20, 2007) has 146 houses; the largest print press in northern Nigeria; and control of the faro private water business".
   They further stated that " the vulnerability of the vice president, who in his two-term tenure has recorded =N=60 billion worth of bank transactions, has always made it easy to point at elite corruption to illustrate the subversion of Nigeria's national efforts at constructing a fair, accountable and transparent polity this much was raised by the BDC interviewer earlier today (Feb 20, 2007). The vice President was cited for diverting $125m from a public trust fund into his personal businesses. The $125m was diverted from the petroleum trust development fund (PTDF)". And many more in which I won't say here. Sir with due respect  you've been accused of corruption in America. You can van prove us wrong by flying to U.S.A to spend some few weeks.
   Only in Nigeria will thieves be regrouping to loot again and the youth whose future will be stolen will be celebrating it….if APC is not the answer to our problems, there is no reason going back to the instigators of the problem. The greatest tragedy that can befall a nation is for her citizens to suffer collective amnesia. I believe PDP believes Nigerians have short memories….with all the looting and many more revealed, some people are still shouting no sign of change yet, they even say it's political prosecution….. Woke Soyinka. For good 16years we could have fixed a lot in the power sector, education sector, infrastructure, health care etc. To make Nigeria great, but a party that did nothing for good 16years still speak in tongues seeking for a miracle to vote for them again.
    Or have we forgotten the moment people like 1)Emir sanusi Lamido said "over 20billion dollars unremitted to the federation account, and if nothing is done Nigeria will know what economic crisis is" 2)Prof Charles soludo "whoever wins 2015 election will never find it easy to govern. Over 30trillion is mismanaged, unaccounted for or missing under Jonathan". 
3)Dr Oby Ezekwesili " our reserve is depleted and our savings are squandered. Our nation is in trouble". 4)Bala Mohammed "Jonathan is a blessed ATM machine that doesn't have secret pin number". And many more. I believe you can now see what the problem is and how difficult it is for this present administration.
   The fate of this nation is not up for sale….I have always tried to give more to the nation than it has given me. This is the principle of service that has guided my public life. (Buhari 2014). We complain Buhari at 76 is too old and we can now embrace a very young man who is only four years younger than him. Can you now see the problem? So if the choice is between Muhammadu Buhari and Atiku Abubakar. I think we have to vote for the person who is rebuilding, refocusing national priorities  and not the one who stole the common wealth, loot treasuries and brought the country to its knees. Believe me they're the problem we have now. So when they tell you corruption is better than incompetence they already agree to the fact that their candidate is corrupt.
   Taking all the above into consideration, the choice is even more clearer than before. Nigeria will have to decide between a candidate with a history full of credibility crises, damning report on corruption both home and abroad and another candidate with an unblemished record in public service. According to Festus keyamo.
   So I urge you all most especially the youth to let us work together by bringing back integrity in 2019. And whenever you want to make a wrong choice, remember that those who refused to be disciplined and corrected today will end up looking for the corrections when sufferness gets in tomorrow. Vote integrity, vote credibility, vote Muhammadu Buhari. Thank you.
I remain sincere and humble servant of the people. It will be a bad idea if you think I was paid to do this. Thank you.