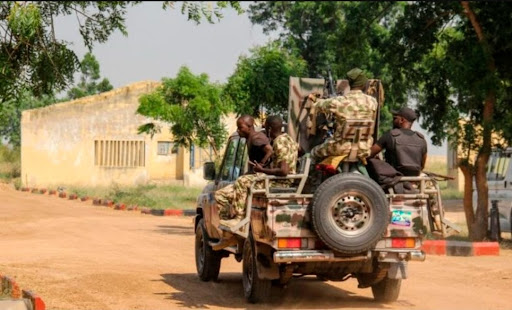 The attack on the Nigerian Army Super Camp one at Ngamdu bears similarities in tactics with the ISWAP attack and dislodging of the Army base located in Mainok in April.
The Nigerian troops on Tuesday, Oct. 12, beat back a column of ISWAP terrorists on gun trucks and an armoured fighting vehicle, as the group attempted to target the Army Super Camp 1 in Borno State, Northeast Nigeria.
The failed attack on the Nigerian Army Super Camp 1 located at Ngamdu in Kaga Local Government Area near the border with neighbouring Yobe State, bears a similar signature with the deadly large-scale attack on an Army base in Mainok in April, which involved the use of gun trucks and Mine-Resistant Ambush Protected vehicles (MRAPs)
Mainok is about 40 km from Ngamdu and both towns are in Kaga Local Government, along the volatile Damaturu – Maiduguri route which faces frequent threats from ISWAP militants harbouring Alagarno-Timbuktu triangle area.
HumAngle understands that the attack on Tuesday was thwarted through a combined air and ground military intervention against the ISWAP militants.
This incident was part of a recent trend of renewed threats to security forces and civilians including the recent skirmishes in Bama Local Government Area in southeast Borno.
This is happening as the group transits from the wet season that slows down movements and raids to a more active season due to improved mobility. Source: HumAngle