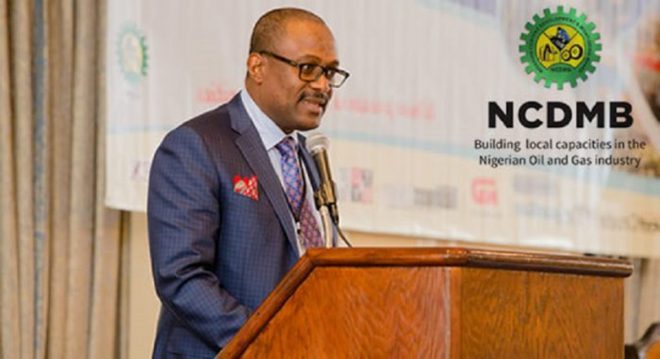 Yemisi Izuora
The Nigerian Content Development and Monitoring Board, NCDMB, has expressed optimism that the Nigerian Liquefied Natural Gas, NLNG, Train 7, construction would kick off this May despite delays prompted by insistence of the Board that 50 per cent of the entire project be domiciled in-country.
Executive Secretary of the NCDMB Simbi Wabote, who disclosed this in Lagos on Tuesday while announcing the forthcoming Nigeria Oil And Gas Opportunity Fair,  NOGOF 2021, with the theme " Leveraging Opportunities and Synergies for Post Pandemic Recovery Of The Nigerian Oil And Gas Industry" also said the upstream activities linked to the project are expected to commence in the third or fourth quarter of the year.
Wabote said it was a difficult bargain to be able to retain 50 per cent of the $10 billion Train 7 contract in country.
He said the Local Content Act has helped to boost local capacity and it is expected that more local firms will be given opportunity to participate in the oil and gas industry.
The upcoming fair he said will create more opportunities for local firms.
The Board is also participating in four Modular Refinery projects as part of local content development.
We have also invested in seven gas sectors as part of efforts to catalize the industries.
According to him, NOGOF 2021 offers a great virtual experience, combining current technology to deliver collaboration between thousands of key players in the O&G sector which will help to grow business by seeing opportunities for quick decision making.
The event he continued promises to have over 1000 opportunities to be presented by international oil companies, independents, and other major players, with more than 1,500 registered participants. Attendees are expected from government agencies, industry regulators, as well as oil producing communities. The manufacturing sector, foreign investors and the financial institutions are not left out either, he added.
In continuation with the Boards practice to maintain an updated database of opportunities covering the upstream, midstream, and downstream sectors, the 2021 version of the Compendium of Opportunities will be made available after the event.
The compendium is aimed at helping local, indigenous, and potential investors prepare, improve their capacities and capabilities to participate in available and upcoming contracts/projects. This case-bound compilation published by NCDMB will be distributed in e-copies to all stakeholders after the event.
The NOGOF 2021 virtual platform is built to offer premium benefits to its sponsors which includes features that help position sponsoring organizations for continual growth with a lingering online presence long after the event.
This continuous online presence after the event offers sponsors the privilege of using the virtual event platforms numerous promoting marketing tools to keep potential clients engaged.