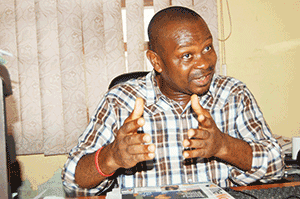 Yemisi Izuora
The Network on Police Reform, NOPRIN, has called on the Lagos state Police Commissioner, to spread its drag net to ensure the arrest and investigation of culprits responsible for the gang rape of a 15-year old girl (including one Doku Ojo, Olawale Ojo and two others) somewhere in Gberige, Ikorodu, Lagos
NOPRIN in a statement by its national coordinator, Okechukwu Nwanguma, said it received distressing information concerning the alleged gang rape of a 15-year-old girl by one Doku Ojo, Olawale Ojo and two others somewhere in Gberige, Ikorodu, Lagos.
Nwanguma, said the organisation was informed that the heinous criminal act of sexual violence on an under-aged school girl was video-recorded by the mindless perpetrators who further threatened the victim with death if she reports her dehumanizing and traumatizing experience to her parents or anyone else.
"They also allegedly told the child that if she failed to turn up any other time they invite her for a repeat of the act , they would upload the sex video online and further deal with her severely.
NOPRIN is further informed that the young girl just lost her mother and the family is still in a mourning mood. This act of sexual violence and further blackmail by the criminals therefore exacerbates her pains, agony and trauma.
NOPRIN is informed that this criminal act was reported at the Ijede Divisional Police Headquarters and when police officers went to arrest the culprits, they and other members of their family put up a fierce resistance, assaulted a policeman and injured the girl's brother and made way for the suspects to flee" the statement noted.
According to the Coordinator, the family of the suspects is said to be threatening to deal with the family of the young girl and any other person involved if the father did not withdraw the case from the police.
"NOPRIN hereby calls on the CP Lagos to order the immediate arrest of the culprits and all those involved in the assault on police officers and obstruction of police investigation and justice in this heinous crime.
The CP is called upon to order a transfer of investigation of this crime to the headquarters for proper and professional investigation and prosecution" the advised.