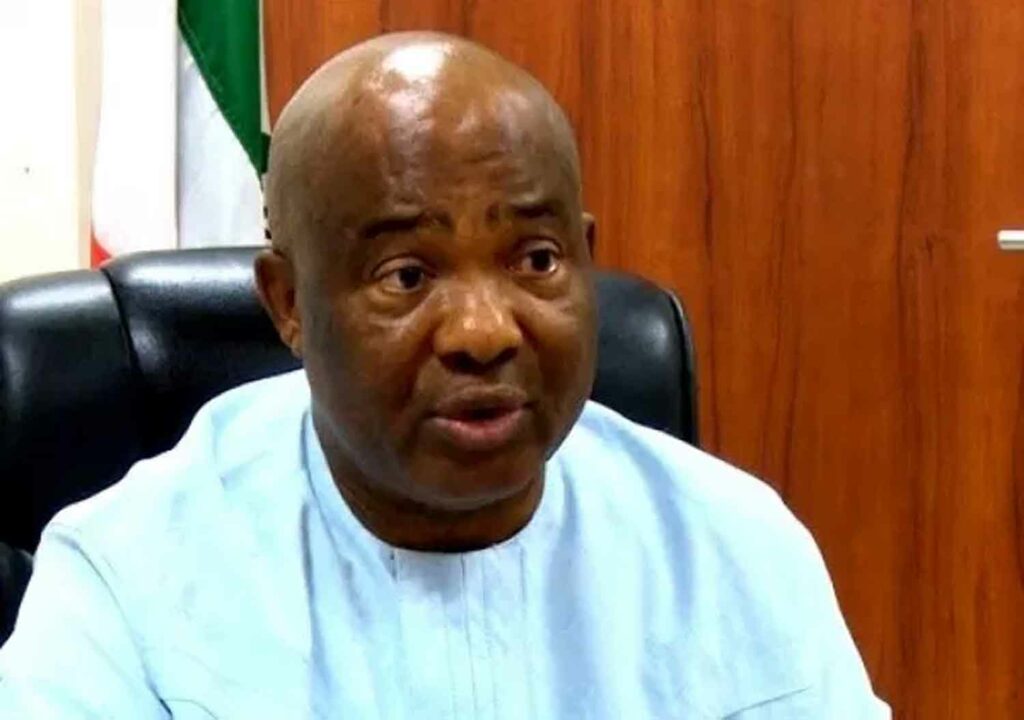 Sampson Uhuegbu
There was tension yesterday, in Imo State as Governor Hope Uzodimma visited communities in Oguta Local Government  to have a townhall meeting with leaders and stakeholders of the area.
The meeting was intended to clear air on insinuations sorrounding the alleged plan to site a Rural Grazing Area (RUGA) in Ejemekwuru, Awa, Agwa, Izombe and Akabo communities of the council Area.
The Governor, who was represented by his Deputy, Prof. Placid Njoku, and his entourage, were trailed by protesters chanting war songs displaying placards with various inscriptions like; "Akabo/Ohaoma Rejects Any Agric/ Farm Project In Their Land", "We Are Not Interested In The Project. Your Excellency, Take It To Another Zone, and others.
In his speech at the meeting which held at Ejemekwuru Community School, Uzodimma congratulated them for having been selected as the communities in Imo to benefit from the Special Agro- Industrial Processing Zone (SAPZ) in the African Development Bank map.
" The SAPZ Nigeria Project is a partnership between the Federal Ministry of Finance, Federal Ministry of Agriculture & Rural Development, African Development Bank and other development finance Institutions." Uzodinma explained.
He maintained that the SAPZ is designed to promote and concentrate the development of agro- processing activities within the areas with high agricultural potentials to boost demand-driven Agric productivities.
"You all should be grateful for attracting such project to your area. There is no element of RUGA involved in SAPZ as the detractors of the present administration alleged. Over Three Thousand (3000) jobs would be created through this project; while those whose lands are to be used will be compensated", the Governor promised.
The Governor further explained, that all the Thirty Six States in Nigeria and the Federal Capital Territory ( FCT) competed for inclusion in the first phase of the project in Nigeria; adding that only Seven States and the FCT were selected.
According to him, Imo is one of the Southeast States that was picked. Others, he said, include, Ogun, Kwara, Oyo, Kano and Cross Rivers States.
Speaking at the ocassion, former Imo House of Assembly Speaker and Special Adviser to the Governor on Oil & Gas,  Rt. Hon. Goodluck Opiah who hails from the Oil- producing area, thanked the Governor for bringing the project to the area which he said will be beneficial to them.
He said people of the area had complained for so long that development had not come to their land and urged them to be delighted over it.
General Manager of ADAPALM Nigerian Ltd, Mr. Goddy Obodo, noted that in  the year 1963, the agency was feeding the whole of Imo State and therefore charged youths of the community to embrace the vision of Governor Hope Uzodimma.
A former Commissioner for Special Duties, Barr. Francis Dibiagwu,  recalled, that even before the discovery of oil in the area, it was kicked against by the enemies of Oguta Local Government; emphasizing that they later realized its importance and embraced it.
Mrs Josephine Azubuine, in an interview with Journalists, expressed sadness over Imo State and Federal government's plan to forcefully takeaway their ancestral lands from them; and asked the government to take the project to another area in Imo.
"We do not have enough land. I am a widow. My husband died years ago;  and since his demise, I have been singlehandedly carrying my family responsibilities through farming. If this land is taken away from me, how can I feed my children?".