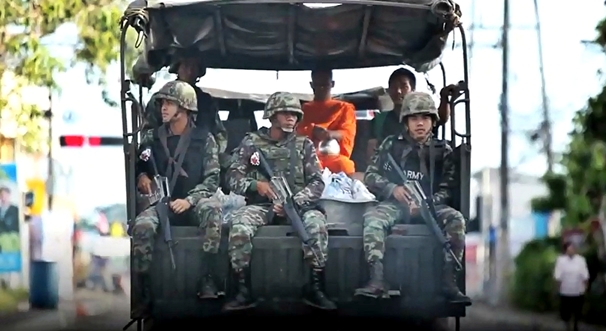 A separatist group called the Indigenous People of Biafra (Ipob) has been clashing with Nigeria's security agencies. Ipob wants a group of states in the south-east, mainly made up of people from the Igbo ethnic group, to break away and form the independent nation of Biafra.
President Buhari has vowed to crush Ipob
The group was founded in 2014 by Nnamdi Kanu, who was recently arrested and is set to face trial on terrorism and treason charges. His arrest has been a major blow to the movement.
The idea of Biafra is not new. In 1967, regional leaders declared an independent state, which led to a brutal civil war and the death of up to a million people.
Supporters of Nnamdi Kanu's movement have been accused of launching deadly attacks on government offices, prisons and the homes of politicians and community leaders.
President Buhari has vowed to crush Ipob. Last month he tweeted that "those misbehaving today" would be dealt with in "the language they will understand".
The post was removed by Twitter for violating its rules after Mr Buhari faced a backlash online. The incident led to the suspension of Twitter in Nigeria.
Well-armed militants staged numerous attacks on oil installations in the early 2000s
In the oil-producing south, security challenges are nothing new.
It is Nigeria's biggest foreign export earner, and militants in the Niger Delta have long agitated for a greater share of the profit. They argue the majority of the oil comes from their region and the environmental damage caused by its extraction has devastated communities and made it impossible for them to fish or farm.
For years, militants pressured the government by kidnapping oil workers and launching attacks on security personnel and oil infrastructure, like pipelines.
To address this, ex-president Umaru Musa Yar'Adua launched a presidential amnesty programme in 2009, which saw the formal end of the Niger Delta militants.
But armed cult groups still pose a security challenge in the region and industry officials have been warning that militancy is once again picking up.