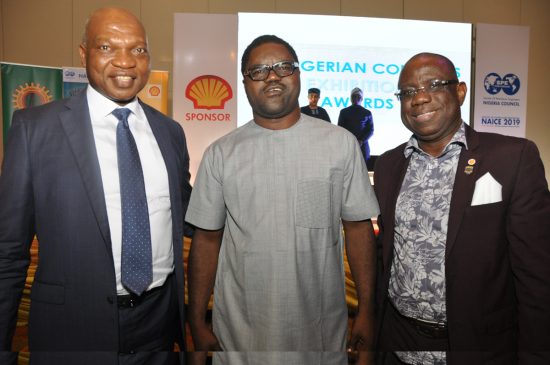 Yemisi Izuora 
Oil major, Shell, CypherCrescent and Chevron Nigeria received awards at the just concluded 2019 Society of Petroleum Engineers Nigeria Annual International Conference and Exhibitions (SPE NAICE) 
After three days of exhibitions in the 2019 Society of Petroleum Engineers Nigeria Annual International Conference and Exhibitions (SPE NAICE), through an evaluation exercise anchored by PricewaterhouseCoppers (PWC), Shell, CypherCrescent and Chevron emerged 2019 winners at the event award nights held on August 7, 2019 at Eko Hotels and Suites, Lagos, Nigeria. 
While the Anglo-Dutch oil giant-Shell was adjudged the best overall exhibitor, CypherCrescent  took the centre stage as it bagged double awards, winning the second overall best exhibitor as well as the best  Nigerian Company- a position that has not been won by a Nigerian technology and service provider since inception of the awards. Also on the victory train at  the award night was the American multinational -Chevron as well as Tenaris, who won the best first timer  exhibitor for the year 2019.
The theme of 2019 SPE NAICE was Artificial Intelligence, Big Data and Mobile Technology: Changing the Future of the Energy Industry.  
SPE NAICE is largely considered as the most prestigious oil and gas industry technology exhibition event in Africa. Its serves as an annual hub for Exploration and Production companies, oil and  gas services and Petrotech companies, consultants, academia, regulators and ancillary service providers to showcase their innovations, projects and services to the hydrocarbon industry. 
While the E&P companies showcased the adoption of advancing technologies to enhance their operations and strategic projects, the service providers displayed their new solutions, geared towards improvement of operational efficiency to the industry. 
Of particular interest and attraction to many attendees was how CypherCrescent Limited, a wholly Nigerian applied research, mathematical and digital transformation consulting company, demonstrated their breakthrough set of solutions – powered by SEPAL ® technology, aimed at improving efficiency across the well, reservoir and facility management (WRFM) ecosystem, and optimizing asset value, through digital transformation. 
CypherCrescent's exhibition was focused on leveraging existing well, reservoir and facility data, mathematical modelling, digitalization technology, WRFM analytics and machine learning techniques to gain improved insight into oil & gas assets for improved operational efficiency and asset value optimisation.
On display and demonstration at the CypherCresent technology exhibition booth were the company's proprietary software- SEPAL® Well, Reservoir & Facility Management solution (SEPAL WRFM); SEPAL Business Forecasting Solution (SEPAL® BFS); SEPAL® Drilling Sequence Planner (SEPAL DSP) and SEPAL® PVT -RMS (SEPAL® PVT Reports and Management Solution). Also presented were their novel services including WRFM Data Digitalization and Democratization, Integrated Production System Modelling, Asset Management Consultancy, Well Intervention Project Management Consulting, and Information Technology Service Management.
The SPE International president, Mr Sami Al Nuaim, a vastly experienced petroleum engineer with Saudi Arabia's oil and gas giant, Saudi Aramco, commended the outstanding initiatives of CypherCrescent in the application of AI, ML and Analytics to solving petroleum engineering problems. He said that the era of very high oil price is gone. Hence, the need to leverage advancing technologies to improve production efficiency. 
According to Mr. Thankgod Egbe, the Technical Director of CypherCrescent , The SEPAL® WRFM software is the first- of -its -kind as it is the first solution in the global WRFM space as it functions on the principle of Integration of Interpretations, coupling mathematical models and intrinsic physics of the entire production system in a single application to help eliminate WRFM data and interpretational inconsistencies. The solution integrates WRFM data, engenders egalitarian collaboration across WRFM disciplines, enables end-to-end well reviews for opportunity identification to optimize production and improve asset integrity. 
He added that the company's core expertise include mathematical modelling, advanced computing, petroleum engineering and geosciences consulting, engineering software development, process digitalization, artificial intelligence and machine learning (AI & ML) research. 
During the VIP tour led by the NNPC GMD, Mr Mele Kyrai, to the CypherCrescent technology booth, the Business Development Manager, Mr. Aniekan Udo stated that CypherCrescent is continuously investing in research & development to evolve improved  solutions with the capacities to help E&P companies in Nigeria and other countries of the world  to produce a barrel of oil and a standard cubic foot of gas at a technically lowest possible cost which is in line with the new drive of the GMD. He therefore solicited for stakeholder support to ensure that Nigeria rises to become Africa's  oil and gas solution hub.