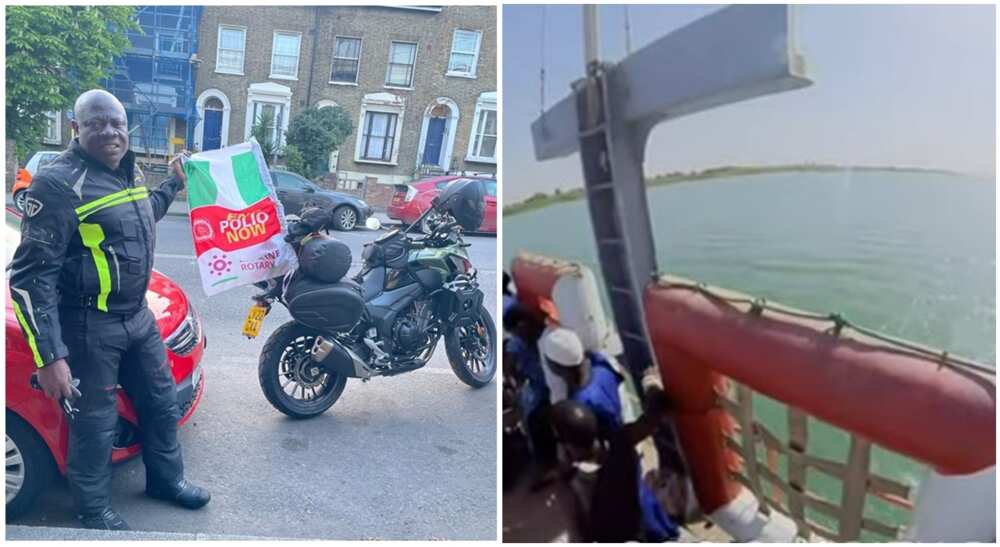 By Admin
Nigerian biker riding from London to Lagos, Kunle Adeyanju may have begun to face some hurdles in Africa, as he disclosed that touts, police and Customs in Mauritania 'extorted' N124,000 from him when he wanted to cross a big river with his bike and enter Senegal.
Adeyanju said he refused to pay and they wanted to seize his bike. He finally paid the N124,000 for the five minutes boat crossing against his wish.
He shared a video of him crossing the big river in a boat with his bike.
Adeyanju who is currently on a "charity ride" from London to Lagos, said Mauritania is not a country he wants to visit again for anything.
The entrepreneur and author embarked on the journey on April 19 and on Day 13, he tweeted that he had arrived in St. Louis, Senegal, from Mauritania after crossing the Sahara Desert through Morocco.
On day 14, Kunle via his Twitter account, shared some of his uneventful experiences of the adventure so far.
Some of his tweets reads: ''The experiences of the last two days had been the only uneventful experiences of this adventure so far. And all the unpleasant experiences happened in Mauritania.
''And this cuts across the two major cities in the country and their two major border.
''I have visited over 75 countries around the world, and I can categorically say that Mauritania is the worse of all the countries I have experienced.
''The people are unfriendly, they are mean and all they think about when they see you as a foreigner is what they can grab, forcefully, deceitfully or cunningly from you.
''All you see are dead carcases of camel, goats, donkey etc littering the sides of the road as if that is the only place there is a desert.