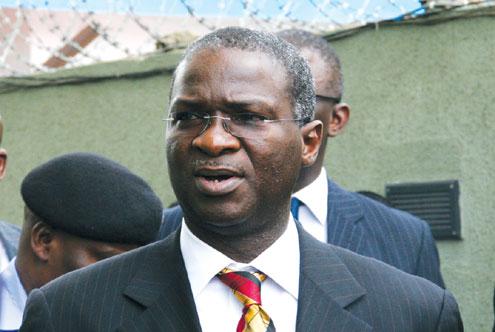 Yemisi Izuora
The federal government is making adequate preparations to resolve outstanding debts in the electricity as well as other challenges that have sector perform below expectation.
The Minister of Power Works and Housing, Mr Babatunde Fashola, speaking after the 12th monthly power sector and stakeholders meeting in Ibadan, hosted by Ibadan Electricity Distribution Company today government has also constituted the board of the Nigerian Electricity Regulatory Commission, NERC, and  appointed a new managing director for Transmission Company of Nigeria, TCN, in effort to strengthen their activities.
The minister said that government has made some progress in resolving some of the liquidity issues.
He said "I believe that within the last one month, some of the payments that were due to some of you ought to have been remitted by NBET as they promised.
If they haven't been remitted, I assure you it is only procedural process. The approvals have been given; you will get the money.
But what is more important is that we have spent the last month holding top-level government meetings to identify the debts owed to the gas companies and the generation companies, we intend to settle the outstanding liabilities, debts and to provide a comfort assurance from government that every month those who actually produce power will get paid. So, we will conclude that very soon.
As for the Discos, Fashola said, "Without pre-judging the report we will get today in terms of claims and proof of debts from the office of the senior special assistant to the Vice President who is managing the verification of claims of Discos.
I believe that after this meeting it will no longer be necessary and obligatory for us to wait for all Discos to prove their debts. We will decide to pay those who prove their debts on a first-come-first-served basis and move on.
On the problems in the industry, Fashola said sabotage of gas assets and pipelines has decommissioned power plants and their ability to provide up to 3,000 megawatts of power.
He said that the 3,500 to 3,800MW that we have been able to keep on the grid over the last few months will be assisted greatly if we can have the gas pipelines back and that 3,000MW to it.
According to him, that means we will be able to deliver well over 6,000MW if the gas pipelines are safe.
He said, " Sabotage has also created debt problem, shortfall in power expectation, and therefore, shortfall in recovery because consumers are more resistant to payment when they don't have electricity.
And we see that they pay more when the power is more stable. Of course, there are issues also at the retail end – metering, estimated bills.
Theminister said government has begun serious engagement with people of the Niger Delta to resolve the vandalisation issue.
He said this is ongoing he vice president, Yemi Osinbajo, representing the president, is going round those Niger Delta communities, engaging them more openly and more robustly.
Fashola said that the idea is to bring them to the table to stop the vandalism while the issues that agitate them can be treated and resolved.
"I believe that if we are successful as we expect to be, we should be able to sometimes this year recover all the 3,000MW that has been lost to gas pipeline breakages.
But beyond that government is also taking some steps to ensure that solutions are provided this year so that results begin to reach where the people are".